JONGGA's preservation efforts for your
health and the planet
In the last century, 75% of plant biodiversity has been lost, with 95% of cabbage varieties disappearing from our plates. Jongga values cabbage – and other plants – to make its delicious kimchi, and as such, cares about preserving these nutritious vegetables so that they can be enjoyed by generations to come.  
Join Jongga's Generation Preservation and help repopulate the planet with plant-forward food diversity for generations to come.
#JonggaGenP
JONGGA Generation Preservation values
Jongga enlightens people that Kimchi is a preserved, fermented food and has a history in maintaining food supply,
sustainability and plant biodiversity. Furthermore, Jongga is on a mission to realize 3 core values.
Preservation of

Plant-forward foods in danger of extinction

Preservation of

Gut health and wellness through the power of fermentation

Preservation of

Environment helping you eat in step with the seasons and minimize food waste
Jongga has partnered with seed preservation society – Seed Savers Exchange & Garden Organic
to prevent produce at risk from disappearing from our plates.
Jongga Kimchi is an authentic part of my Korean culture and packed with deep flavors and aromatics that make it a staple in my kitchen pantry. I stand with Jongga's mission to maintain plant biodiversity, make sustainability delicious and preserve the health of our planet.
- KRISTEN KISH
Chef, TV personality and Author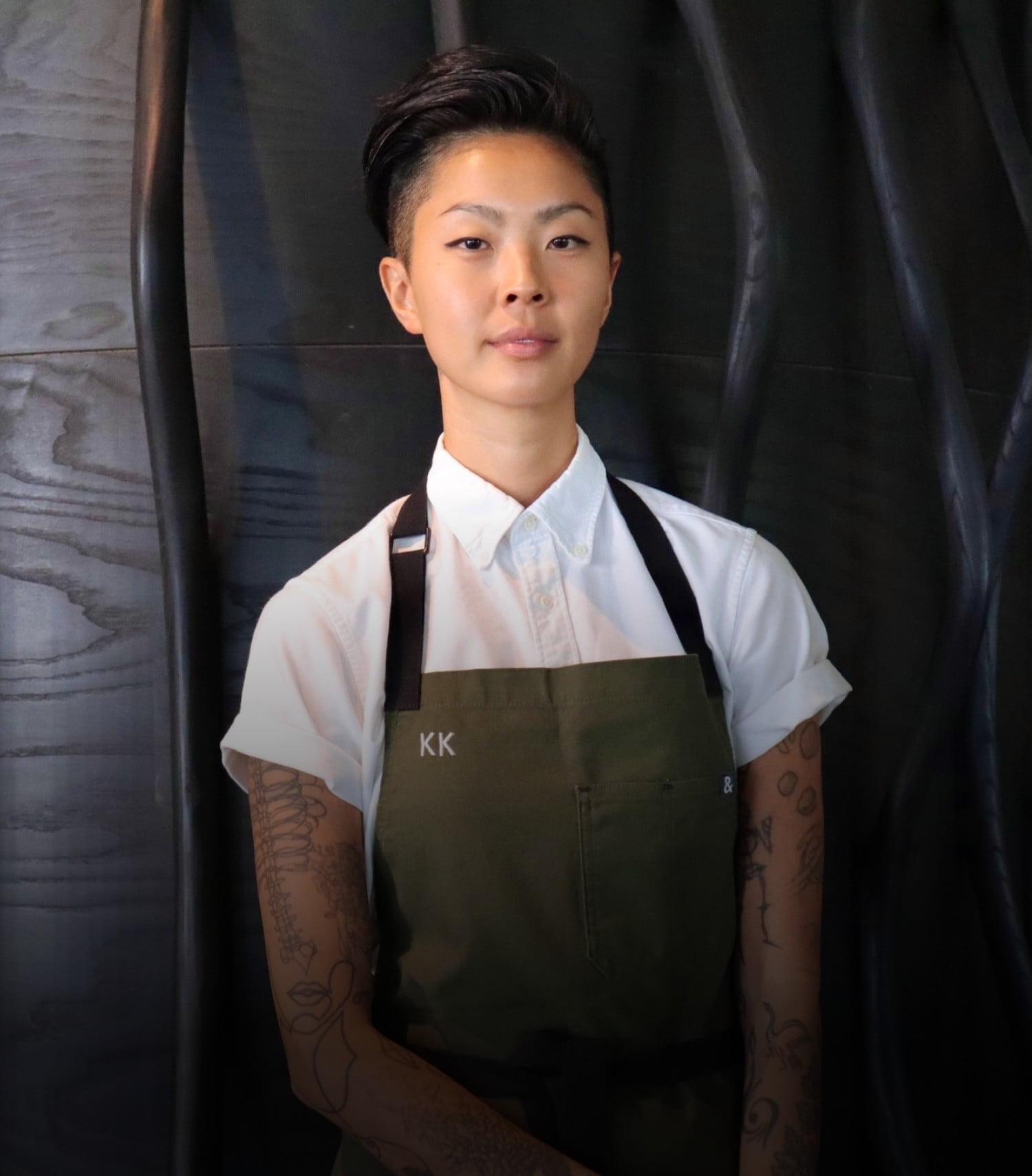 Ambassador of
Jongga Generation Preservation, Kristen Kish
Photo Credit : Natalie Engel
JONGGA Kimchi recipes created by Kristen Kish
JONGGA Kimchi and Ham Puff Pastry Roll

| | |
| --- | --- |
| Product | JONGGA Napa Cabbage Kimchi |
| Serves | 8 |
| Prep Time | 60 minutes |
| Total Time | 1 hour, 40 minutes |

Learn More

JONGGA Kimchi Creamed Corn Croquette

| | |
| --- | --- |
| Product | JONGGA Napa Cabbage Kimchi |
| Serves | 30-40 2oz croquettes |
| Prep Time | 60 minutes |
| Total Time | 1 hour, 30 minutes |

Learn More
JONGGA Kimchi
and Ham Puff Pastry Roll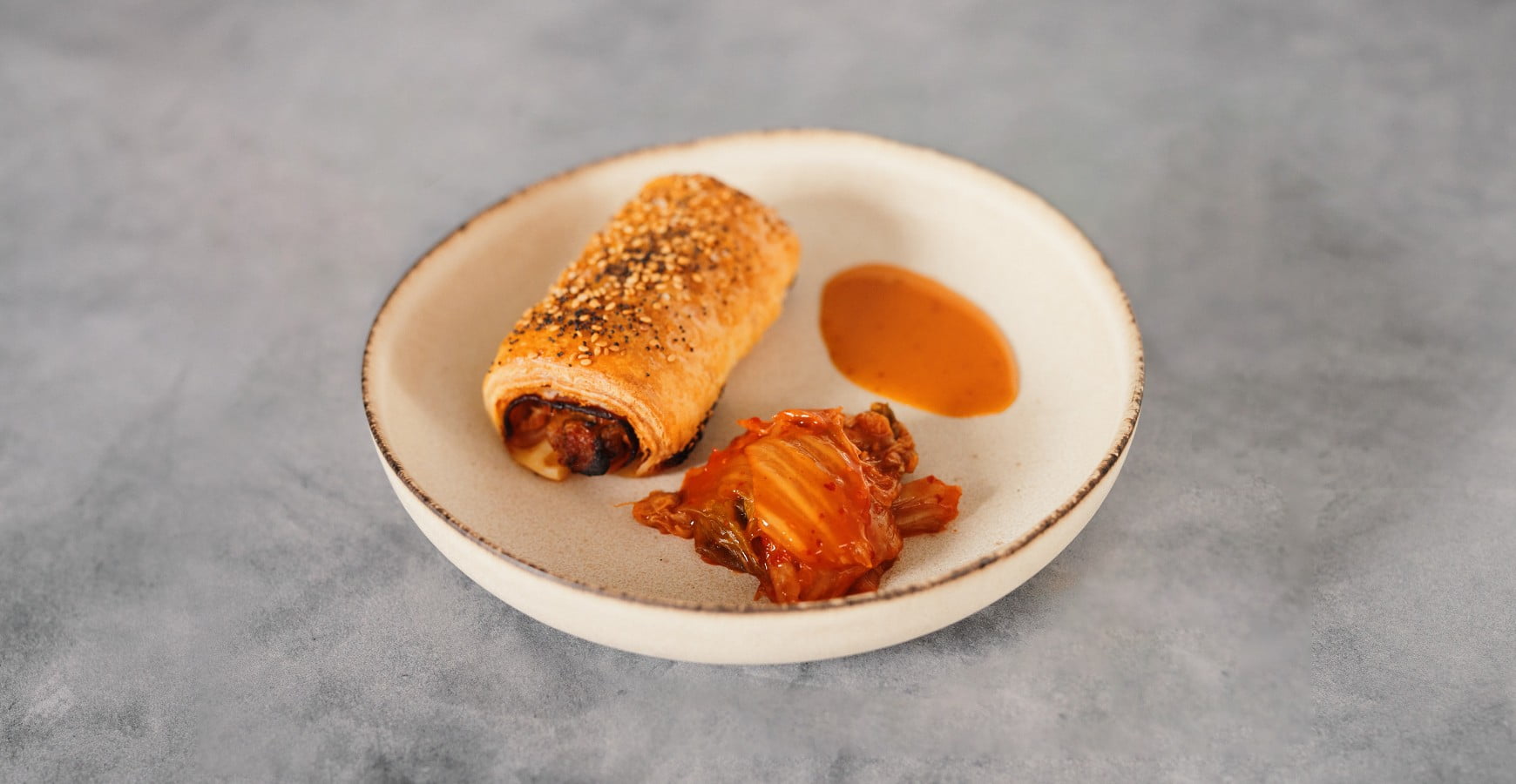 | | |
| --- | --- |
| Product | JONGGA Napa Cabbage Kimchi |
| Serves | 8 |
| Prep Time | 60 minutes |
| Total Time | 1 hour, 40 minutes |
Ingredients
For the Roll
1 package (~1 pound) frozen puff pastry, two sheets; Kristen uses Pepperidge Farm brand. Defrost at room temperature until pliable to work with – 40 or so minutes.
Honey mustard
⅔ to ¾ pound thinly sliced ham; 2 slices per roll
Caramelized onion & Jongga Kimchi mix
½ oz gruyere cheese – cut into baton (cheese is optional)
1 egg beaten
1 tablespoon Maldon salt
1 tablespoon Poppy seeds
1 tablespoon roasted Korean sesame seeds
For the Caramelized Onions & Kimchi
1 tablespoon olive oil
1 tablespoon butter
3 cups yellow onion ( approx. 2 small/medium) – halved , peeled, and sliced with the grain
1 teaspoon kosher salt
1 tablespoon water
2 cups Jongga Kimchi – squeezed dry and finely chopped
For the Honey Mustard
2 tablespoon light or medium honey
3 tablespoon Dijon mustard; Kristen prefers Mille brand
1 tablespoon Jongga Kimchi juice
Mix together
Instructions
For the Caramelized Onions & Kimchi

This process can be done in advance

1.In a medium sauté pan over medium heat, gently melt the butter with olive oil.
2.Add the onions, salt, and water. Slowly caramelize over medium heat, lowering the heat as they get darker.
3.Once finished, remove onions from heat and transfer to a small tray or plate
4.Cool completely in the refrigerator
5.Mix in chopped kimchi.
For the Roll
1.Preheat oven to 375°F – set rack in the middle of the oven
2.Cut each sheet of pastry into quarters, yielding 4 each, 5.5 x 4" rectangle. Repeat with second puff pastry sheet, totaling 8 squares
3.Dust off excess flour, if any, and brush a thin layer of the honey mustard on the pastry
4.Place two slices of ham on top, allowing the ham to overhang the pastry
5.Add approximately 2 tablespoons of the caramelized onion and Jongga Kimchi mix. If adding the baton of cheese, place on top of the onion/kimchi mix before rolling
6.Roll the pastry into a log, making sure the edge closest to you of pastry directly touches the opposite side; fold the ham back if necessary. This ensures the roll will remain as such
7.Place on a parchment lined baking tray
8.Brush the tops and sides with egg wash, sprinkle with salt, poppy seeds and sesame seeds
9.Bake for 35-40 minutes or until deep golden brown and the pastry has completely puffed
10.Cool to room temperature and serve with remaining honey mustard
11.Enjoy these completely cooled; they're great with a green salad and a bright vinaigrette, Kristen likes olive oil and Jongga Kimchi juice
TIPIf the pastry has become too soft, freeze for a short time before putting in the oven. The firmer the pastry is going into the oven, the more it will hold the intended shape
JONGGA Kimchi
Creamed Corn Croquette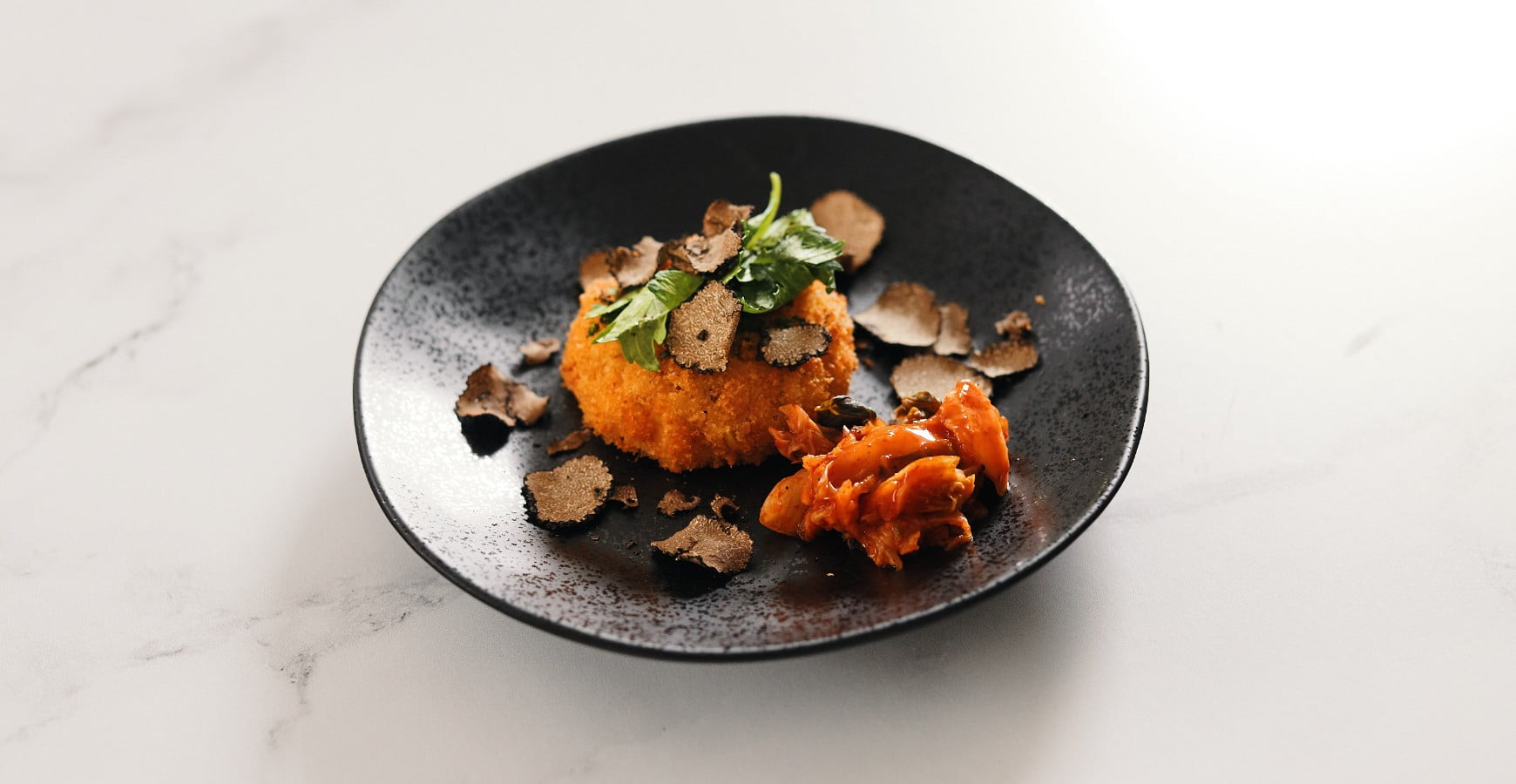 | | |
| --- | --- |
| Product | JONGGA Napa Cabbage Kimchi |
| Serves | 30-40 2oz croquettes |
| Prep Time | 60 minutes |
| Total Time | 1 hour, 30 minutes |
Ingredients
For the Croquette
2 pounds russet potatoes
3 cups fresh corn kernels (approx. 3 small ears)
Smoked mozzarella Mornay (see recipe below)
2 cups Jongga Kimchi – squeezed dry and finely chopped, reserve 3 tablespoons of Jongga Kimchi juice
Salt to taste
Vegetable oil or frying oil as needed
1 large Black Truffle as desired/needed
Celery leaves, lemon, Maldon Salt and chives to garnish
For the Smoked Mozzarella Mornay
3 tablespoons unsalted butter
3 tablespoons all purpose flour
3 sprigs thyme
2 large cloves garlic – peeled and gently smashed
1 teaspoon whole black peppercorns
1 small shallot – peeled and small diced
1¼ cup whole milk
1 teaspoon kosher salt
6 ounces smoked mozzarella – cut into small cubes/pieces
Breading Station
2 - 4 cups panko – crushed with your hands and mixed with ½ teaspoon kosher salt
4 eggs – beaten and mixed with ½ teaspoon kosher salt
1 cup all purpose flour, mixed with 1 teaspoon gochugaru, ½ teaspoon dried thyme and ½ teaspoon kosher salt.
Instructions
For the Smoked Mozzarella Mornay
1.In a medium saucepan add the butter, flour, thyme, garlic, peppercorns, and shallot
2.Turn on heat to medium and allow the butter and flour to come together, forming a blond roux
3.Slowly whisk in the whole milk and allow mixture to come to a simmer, scraping down the sides and stirring frequently. Mixture will thicken
4.Add in the cheese 1/3 at a time, stirring to incorporate
5.Once cheese is fully melted, turn off heat and transfer into a wide shallow container, placing plastic wrap directly over the sauce
6.Refrigerate until the sauce is room temp or chilled to the touch
For the Croquette
1.Bake potatoes at 400°F for about an hour or until tender
2.Remove from oven and let cool enough to handle
3.Remove the skin and gently fork mash the potatoes while still hot, set aside to cool
4.Mix together the room temperature or cooled cheese sauce with the corn kernels
5.Add the kimchi, potatoes, and kimchi juice
6.Mix until incorporated and season with salt to taste
7.Form into 2 oz discs, larger or smaller depending on preference.
8.Freeze until firm (optional but makes it easier)
9.Working in batches, dredge each croquette in the flour mixture (be sure to tap off excess before moving on) then in the egg mixture, then in the panko mixture.
10.Deep fry in 350 – 370°F vegetable oil
11.Garnish with celery leaves tossed in lemon juice, chives, Maldon Salt and lots of shaved black truffles
12.Serve immediately
Preserve A Table
To celebrate the rich variety of plant-forward foods we can enjoy within our diets, and ensure they remain on the dinner table for centuries to come, Jongga Kimchi will be hosting a special supper club – (P)reserve a Table - at conscious dining venues, Dirt Candy in New York & Apricity in London. You will be able to (P)reserve a complimentary spot at the communal table and tuck-into a special menu featuring fermented dishes that champion the heritage veg in danger of disappearing from our dinner tables.
Limited time offer – available in New York & London city only.
The company behind JONGGA Kimchi,
Daesang Corporation's sustainability management
Daesang Corporation was founded in 1956 with wholly local capital and technology.
Based on its core vision of 'Creating a happy future through a healthy food culture',
Daesang Corporation is committed to create sustainable values for customers, society, and the planet.
Food

For all, healthy ACT

Achieve balanced nutrition

Strengthen necessary nutrients and subtract or reduce certain ingredients that may not be beneficial to health

Cultivate wellness

Development of functional foods and ingredients that enhance bioregulatory function

Thrive meaningful society

Development of alternative food that are friendly to nature and society

Community

Co-prosperity and cooperation with stakeholders

1. Sustainable supply chain

Strengthen necessary nutrients and subtract or reduce certain ingredients that may not be beneficial to health

Since 2009, GWP(Great Work Partner) Awards are given to excellent partners to express Daesang Corp.'s gratitude for their outstanding results and efforts for growing together.

2. GWP(Great Work Place)

Daesang Corp. pursues work-life balance for its employees by operating various programs such as long-term refresh policy, family love day, maternity benefits.

Planet

A world where the environment and people coexist

1. Response to climate change

Upcycling 14,700 plastic bottles to make eco-friendly uniforms, resulting in 882kg of greenhouse gas emissions reduction effect

Construction of eco-friendly R&D center with green certification level 2, by utilizing renewable energy such as solar power and geothermal heat

2. Eco-friendly packaging

Developed lightweight packaging materials, contributing to reduction of 300 tons of plastic per year

Improving the recyclability of plastic containers, and securing separate waste disposal of packaging waste