Kimchi Padthai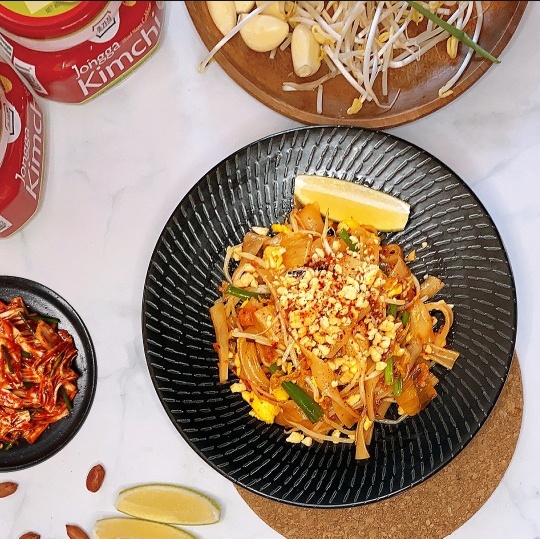 Ingredients
- Rice noodles, soaked in cold water 80g - Bean sprouts 100g - Egg. scrambled 2 - Spring onions 15g - Dry shrimp 10g - Pepperoncino, crushed 2~3 - Garlic chopped 50g - Vegetable oil - Water - Jongga Kimchi, chopped 50g - Lime to garnish - Peanut, crushed 20g - Soy sauce 5ml - Sriracha sauce 30g - Oyster sauce 20g - Fish sauce 10ml - Sugar 10g
Directions
Prepare the sauce by mixing soy sauce, sriracha sauce, fish sauce, oyster sauce, and sugar.
Grease a pan with vegetable oil and start to garlic and pepperoncino, when the garlic is cooked, add dry shrimp, Kimchi, rice noodle, and sauce.
Stir-fry together, adding water little by little.
Stir-fry for about 2 minutes, then add some bean sprouts and coriander and stir-fry over high heat for 1 minute.
Place in a plate and garnish with peanut, lime, and Enjoy!