Creamy Kimchi Penne Pasta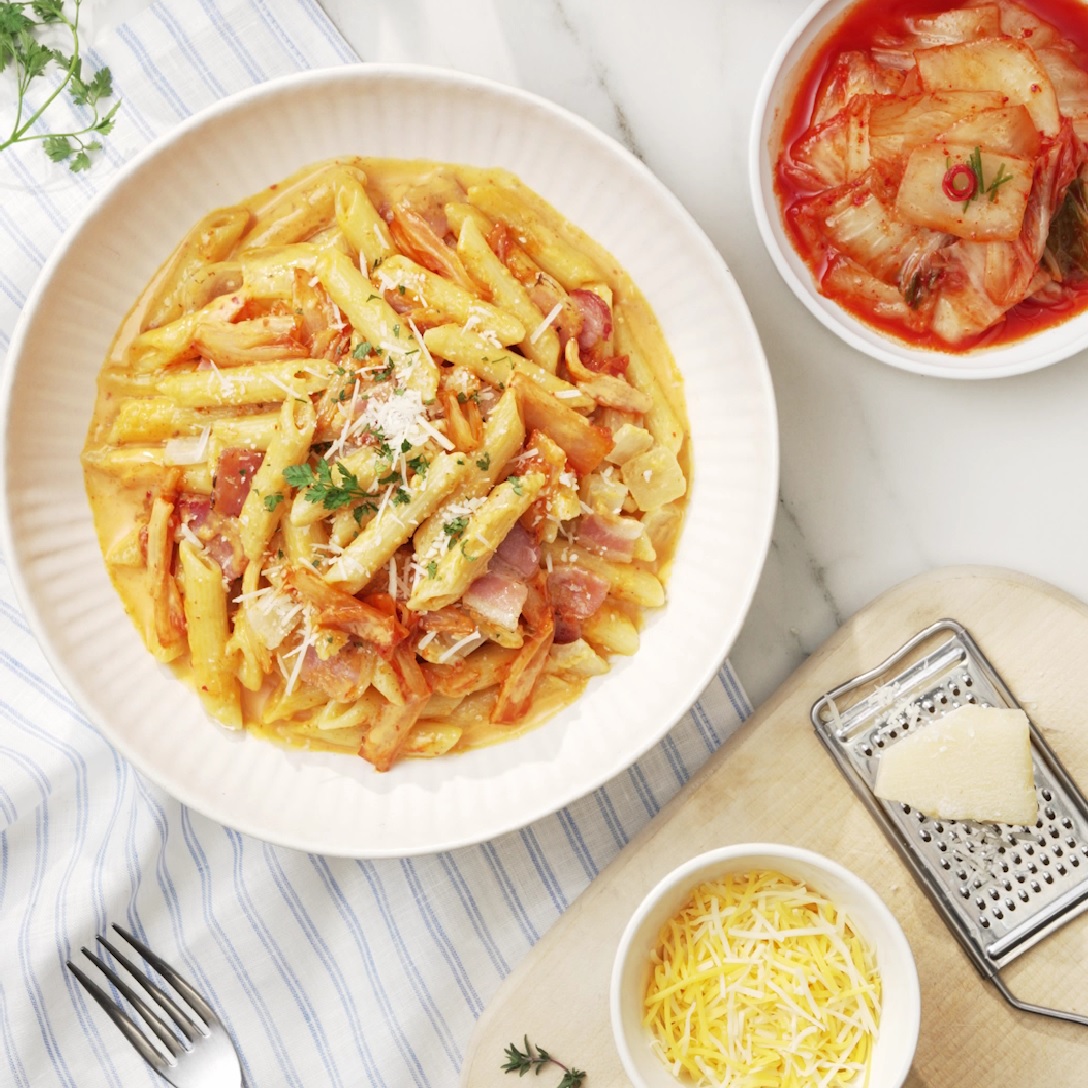 Ingredients
- 8 oz spaghetti or your favorite pasta - 3 tbsp cooking oil - 1/2 onion sliced - 3/4 cup well-fermented Jongga kimchi - 1 tbsp soy sauce - 2 tbsp vegetarian oyster sauce - 1/2 tsp gochugaru, optional - 1/4 block of firm tofu - 1 cup Not Milk or oat milk - 2 tbsp kimchi juice - 1/2 tsp smoked paprika - 2 tbsp nutritional yeast - Violife vegan Parmesan cheese, optional - Chopped green onion for garnish - Salt & pepper to taste
Directions
Bring a big pot of water to boil; add a generous amount of salt and cook pasta by following directions of package you're using.
Heat a large skillet over medium heat; add cooking oil and swirl to coat. Add sliced onion and season with a pinch of salt and pepper. Sauté onion until translucent, about 3 to 4 minutes.
Add kimchi, soy sauce, and oyster sauce. Sauté kimchi with sauce until kimchi is softened, about 5 to 6 minutes. Stir occasionally. Add some gochugaru to your taste.
Meanwhile, combine firm tofu and Not Milk in a blender and blend until very smooth. Pour it into skillet. Deglaze all the caramelized bits on bottom of skillet. Add kimchi juice and smoked paprika.
Add cooked pasta into sauce, sprinkle nutritional yeast on top of noodles. Mix only noodles and nutritional yeast first, so nutritional yeast will stick to noodles, then mix with sauce. Sprinkle some parmesan cheese and black pepper to your taste. Garnish with chopped green onion, gochugaru, extra cheese, or/and black pepper. Serve immediately. Enjoy!